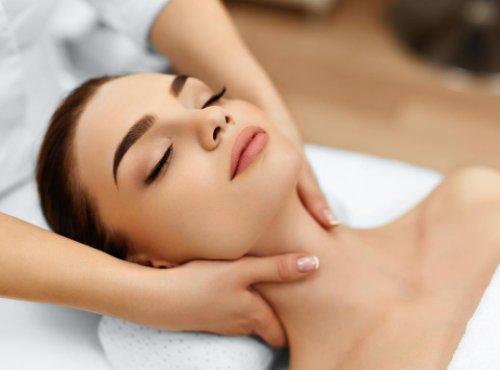 Are you wanting to achieve beautiful healthy skin but don't know where to start?
We take the results and health of your skin very seriously which is why we've developed our First Facial Offer especially customised and suitable for all skin types and concerns.
Our 60-minute experience will immediately restore a glow and smoothness to your skin you haven't seen in a long time. But more than that, we'll act as your skin coach, guiding you to reach and maintain the healthy glowing skin you've been striving to achieve.
We often find that our new clients have tried so many products (and wasted so much money), from the most marketed brands in the world and are disappointed by the lack of results or solutions to their skin concerns. Our DMK products and treatments are world leaders in skincare, being classed Paramedical they treat the skin on a deeper level, not just on the surface of the skin. They are highly effective at achieving incredible results, but at the same time use natural and botanical ingredients, and pride themselves on being affordable.
Includes: Professional Skin Consultation, 30min DMK Nutritional Facial, LED Light Therapy, full prescription & recommendation for products & treatments PLUS vouchers $10 off Skincare Products and $30 off your next Facial.
PRICE $99 – 60mins (normally this treatment is valued at $265) PLUS $10 off Skincare products purchased today and BONUS $30 off your next Facial booked today. CLICK TO BOOK NOW!
30 MINUTES, $89            45 MINUTES, $110             60 MINUTES $130   ADD ON LED LIGHT THERAPY $45
Experience our DMK Nutritional Facials, personalised especially for your skin type and concerns by our experienced skin therapists.
Your skin will be gently cleansed, exfoliated, hydrated and refreshed using our professional paramedical DMK skincare products, which will leave your skin looking and feeling hydrated, renewed and glowing!
Customised especially for your skin's needs using natural active creams, serums, and masks leaving a refreshed luminous appearance. Jumpstart a glowing complexion with our specialised facial treatment which will revive all skin types. This rejuvenating facial treatment, will boost hydration, nourish and replenish the skin while revitalising tone and texture.
Our DMK Nutritional Facial includes a soothing hand, arm or scalp massage which we guarantee will leave you feeling relaxed, pampered and fabulous!
For enhanced results add LED Therapy 15 mins $45 to make this package the complete skin treatment.
DMK Express Renewal Facial
30 MINUTES, $129      ADD LED LIGHT THERAPY $174
Our DMK Express Renewal Facial performs a controlled micro-peel to reveal younger-looking skin whilst helping to reduce the appearance of fine lines, wrinkles and visible pores.
The treatment uses a botanically based, pharmaceutical-grade AHA and BHA ingredients, including glycolic acid, lactic acid, citric acid, salicylic acid and malic acid and leaves the skin looking instantly radiant and luminous.
Add a LED Light Treatment for boosted results $45
30 MINUTES, $89  ADD LED LIGHT THERAPY $134
Packed with powerful skincare nutrients, Hydrojelly masks help provide the proper balance of electrolytes to keep skin healthy and hydrated.
Once applied, the masks then solidifies creating a unique vacuum seal allowing your skin to absorb the potent benefits of all natural ingredients.
Each Hydrojelly mask contains Algae, Organic Whole Grain Oat Flour, Organic White Rice Flour, & Organic White Willow Bark Powder, as well as their own specialized ingredients to treat your individual skin concerns.
Add an LED Light Treatment for $45
Teen skin can be mean skin and the right skin care is essential to get through the extreme changes that happen. Breakouts, excessive oiliness, blackheads and blemishes can be treated when you're in the hands of our therapists. This treatment includes an extensive skin analysis, customised facial using our incredible paramedical DMK skincare products, finishing with a LED light therapy treatment.
You will leave with a  specialised homecare prescription for rapid results to boost your confidence so you can get on with having fun!
Regular treatments are beneficial to diminish acne and keep your skin fresh and clean.
Our gentle Fruit Enzyme Facial will help you maintain a radiant look by eliminating dead skin build-up and infusing the skin with vital nutrients and antioxidants. Combining two different types of gentle yet thorough exfoliation, this facial will gently polish and hydrate even the most sensitive of skins, leaving it instantly fresher, smoother and brighter.
The perfect peel to fast track your way to clear, healthy skin!
Combining BHAs with an Anti-Acne Active System, this peel penetrates deep into the pores to clear them of impurities and bacteria, and help keep them clear. This results in a powerful renewal action within the skin which sees your complexion clearer with every visit!
Combined with the appropriate home care products, the results of this peel will truly amaze you!
* A course of treatments is recommended
* Skin must be prepped 2-4 weeks prior
Lactobotanical Gentle Peel
Ideal for those of you who require a very gentle, clinically proven treatment that can be adjusted in strength according to your level of sensitivity.
Your skin specialist will choose the appropriate strength for your skin during your initial consultation. This means that event he most temperamental skins can enjoy all the benefits of a peel without irritation. This peel treats dehydration, uneven texture, congestion, ageing and sun damage, and they are a great starter peel to prep your skin before introducing anything stronger.
* A course of treatments is recommended
* Skin must be prepped 2-4 weeks prior
Pomegranate Antioxidant Peel
Our Pomegranate Peel works to even out the top layers of the skin to smooth away superficial sun damage and discoloration.
Containing some of nature's most potent antioxidants – including pomegranate seed oil, green algae and resveratrol – this epidermal leveling peel targets skin-damaging free radicals while gently stimulating collagen for a healthy, youthful finish.
Pigment Punch Brightening Peel
Give pigment the punch with this brightening renewal peel.
BHAs combined with a multifruit blend and powerful vitamin C help to lift away superficial pigmentation and speed up the regeneration of healthy, unblemished skin cells.
Your skin is left clearer, brighter, and much more even!
Suitable for the treatment of hormonal pigmentation, epidermal pigmentation and surface discolourations.
* A course of treatments is recommended
* Skin must be prepped 2-4 weeks prior