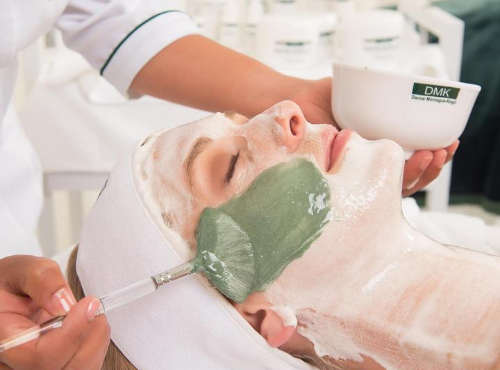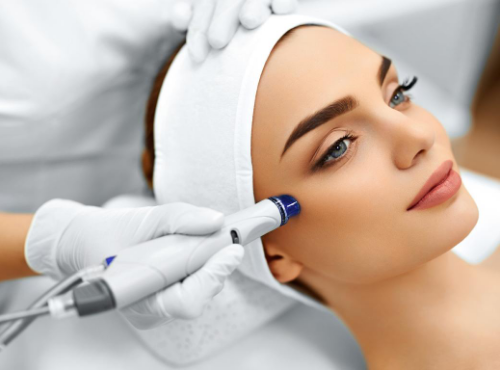 OBSERV Skin Consultation & Analysis
30 MINUTES, $70  & 10% off skincare products purchased on the same day
Discover your path to beautiful skin with our Observ Skin Imaging Device for a complete skin consultation.
Using specialised lights we are able to analyse the deep layers of your face to provide an understanding of how your skin is functioning and what it requires for optimum health. Our dermal therapist will analyse the health of your skin and recommend a customised program of skincare products and treatments for your ongoing skin health. Stop wasting money on products and treatments that are not suitable or recommended for your skin, come and talk to our skin experts today for a professional skin consultation in Horsham.
10% off skincare products purchased on the same day
Are you wanting to achieve beautiful healthy skin but don't know where to start?
We take the results and health of your skin very seriously which is why we've developed our First Facial Offer especially customised and suitable for all skin types and concerns.
Our 60-minute experience will immediately restore a glow and smoothness to your skin you haven't seen in a long time. But more than that, we'll act as your skin coach, guiding you to reach and maintain the healthy glowing skin you've been striving to achieve.
We often find that our new clients have tried so many products (and wasted so much money), from the most marketed brands in the world and are disappointed by the lack of results or solutions to their skin concerns. Our DMK products and treatments are world leaders in skincare, being classed Paramedical they treat the skin on a deeper level, not just on the surface of the skin. They are highly effective at achieving incredible results, but at the same time use natural and botanical ingredients, and pride themselves on being affordable.
Includes: Professional Skin Consultation, 30min DMK Nutritional Facial, LED Light Therapy, full prescription & recommendation for products & treatments PLUS vouchers $10 off Skincare Products and $30 off your next Facial.
PRICE $99 – 60mins (normally this treatment is valued at $265) PLUS $10 off Skincare products purchased today and BONUS $30 off your next Facial booked today. CLICK TO BOOK NOW!
DMK Paramedical Enzyme Facials
DMK Paramedical Enzyme treatments are designed for those who want results. Specific treatments and treatment plans are available for the following skin concerns: pigmentation, acne, open pores, scarring, milia, wrinkles from sun damage, fragile capillaries and premature ageing and also for overall age management.
There is no other skin care system in the world that can deliver the results that DMK can. DMK's method of skin revision is focused on REMOVE, REBUILD, PROTECT and MAINTAIN.
First we REMOVE the dead skin buildup and then REBUILD the remaining living cells by nourishing them with proteins, amino acids and nutrients. Once the skin is returned to a normal, healthy state, it is vital to PROTECT it from external elements, especially the sun and pollution. Finally maintenance and protection go hand in hand. We will continue to support and MAINTAIN the health of your skin by offering treatments tailored to your personal requirements.
DMK's famous Enzyme therapy will give you an instant plumping and more importantly it will oxygenate and detoxify your skin, using your own lymphatic and circulatory systems and then kickstart it's optimal functioning for long term results.
DMK SIGNATURE ENZYME TREATMENT – LEVEL 1 – 75 MINUTES, $230
DMK Signature Enzyme Therapy includes a light pre-exfoliation and is suitable for first time clients.
DMK ENZYME THERAPY WITH PRE-EXFOLIATION – LEVEL 2 – 90 MINUTES, $270
DMK Enzyme Therapy with Pre-Exfoliation removes dead skin cells and rebuilds collagen and elastin.
DMK MUSCLE BANDING ENZYME THERAPY  – LEVEL 3 – 90 MINUTES, $300
DMK Enzyme Therapy with Muscle Banding and Pre-Exfoliaton uses powerful enzyme treatment combined with other unique DMK formulations all designed to lift, firm, tome and brighten your skin.
DMK INSTANT LIFT ENZYME THERAPY – LEVEL 4 – 120 MINUTES, $320
DMK Enzyme Therapy Instant Lift treatment provides breathtaking results. It has instant lifting and tightening qualities and is perfect for special occasions! This treatment will leave you red carpet ready and is the ultimate anti-ageing treatment. 
ADD-ONS:
FIBROMAX C Vitamin C Infusion Eyes/Mouth/Scars/Pigment – $35
FIBROMAX C Vitamin C Infusion Full Face – $70
Upgrade your facial by adding an intensive Vitamin C Therapy for added collagen production, brightening effects and anti-ageing benefits.
LED THERAPY – 30MINS $45
LED can target specific concern such as breakouts, acne management, stimulating collagen production, skin sensitivity, pigmentation reduction and many more. Add it to a DMK Enzyme treatment for intensive results.
MEDI-PEDI – $40
Our Medi Pedi Treatment is the only foot treatment that actively smooths dry, cracked and calloused areas on the feet. Results are immediate and dramatic.
MM SLIM BODY CONTOURING – 30MINS $199
Build muscle and burn fat at the same time with this advanced magnetic muscle stimulation treatment. Suitable for stomach, arms and legs.
SAVE BY PURCHASING DMK TREATMENTS IN PACKAGES AND RECEIVE FREE DMK EFA SUPPLEMENTS WORTH $85
Purchase a 3 Pack of DMK Enzyme Level 1 Treatments for $690
Purchase a Pack of 1 x DMK Enzyme Level 1 PLUS 2 x DMK Enzyme Level 2 for $770
CLICK HERE FOR FURTHER INFORMATION ABOUT OUR INCREDIBLE DMK SKINCARE PRODUCTS!
DMK BODY ENZYME THERAPY
Arm or Stomach or 1/2 Back or 1/2 Leg – $230
Full Leg or Full Back – $250
Body ENZYME THERAPY with DMK is a powerful treatment that works for stretch marks, water/fluid retention, cellulite, acne and congestion, ingrown hairs, spider veins, pigmentation, sagging and sluggish skin and much much more!
30 MINUTES, $89            45 MINUTES, $110             60 MINUTES $130
Experience our DMK Nutritional Facials, personalised especially for your skin type and concerns by our experienced skin therapists.
Your skin will be gently cleansed, exfoliated, hydrated and refreshed using our professional paramedical DMK skincare products, which will leave your skin looking and feeling hydrated, renewed and glowing!
Customised especially for your skin's needs using natural active creams, serums, and masks leaving a refreshed luminous appearance. Jumpstart a glowing complexion with our specialised facial treatment which will revive all skin types. This rejuvenating facial treatment, will boost hydration, nourish and replenish the skin while revitalising tone and texture.
Our DMK Nutritional Facial includes a soothing hand, arm or scalp massage which we guarantee will leave you feeling relaxed, pampered and fabulous!
For enhanced results add LED Therapy 15 mins $45 to make this package the complete skin treatment.
DMK Express Renewal Facial
30 MINUTES, $129    ADD LED LIGHT THERAPY $174
Our DMK Express Renewal Facial performs a controlled micro-peel to reveal younger-looking skin whilst helping to reduce the appearance of fine lines, wrinkles and visible pores.
The treatment uses a botanically based, pharmaceutical-grade AHA and BHA ingredients, including glycolic acid, lactic acid, citric acid, salicylic acid and malic acid and leaves the skin looking instantly radiant and luminous.
Add a LED Light Treatment for boosted results $45
HIFU - High Intensity Focused Ultrasound
HIFU is the worlds latest cosmetic treatment for skin tightening that is non-invasive and considered the next best thing to a full surgical facelift.
HIFU is Australia's favourite non-surgical anti-ageing treatment which can wipe 5-10 years off your age without any needles, surgery and definitely NO DOWNTIME!
It uses ultrasound energy to encourage the production of collagen, which results in firmer skin. You can maintain and regain your youthful looks with the most advanced non-invasive face lift in Australia today!
HIFU will gently lift and firm the skin from deep below the surface utilising high intensity focused ultrasound and the best news is that your results will continue to improve over time and will last up to 2 years!
HIFU is a non-surgical treatment that uses HIFU (high-intensity focused ultrasound) technology to tighten and lift facial and body skin. This micro-focused ultrasound treatment can effectively combat signs of aging and troublesome skin laxity to create a youthful appearance on the face and body.
How does the HIFU work?
HIFU effectively treats the superficial and deeper skin layers, as well as the Superficial Muscular Aponeurotic System (SMAS) with a triple layer lifting effect. The treatment heats up and stimulates existing collagen fibres, causing them to thicken and shorting giving you a long term tightening and lifting effect. High-Intensity Focused Ultrasound is currently the only non-invasive medical device that allows the deepest penetration of energy, targeting depths of 1.5mm, 3mm and 4.5mm, for skin lifting and tightening.
HIFU is safe and effective for many skin types and can dramatically improve the appearance of:
– Sagging Neck
– Loose Jowls
– Droopy Eyes
– Double Chin
For best results HIFU treatments should be performed twice 6 months apart, with maintenance treatments advisable after that. We also recommend advanced skin facials and DMK paramedical skincare used at home for optimal results!
CLICK here to watch a FB live explaining HIFU in detail.
PlasmaLift is here!! This new non-surgical treatment will remove wrinkles and shrink your skin right before your eyes. We have the latest technology offering the traditional plasma treatments, along with the new NO DOWNTIME  treatment!
PlasmaLift is the easiest way for you to reverse the signs of ageing instantly, without having to undergo surgery. PlasmaLift is able to treat your areas of concern without any actual cutting of the skin – no surgery and no needles.
THE ULTIMATE EYELID LIFT TREATMENT IS HERE! NO NEEDLES, NO SURGERY!
PlasmaLift will refresh tired hooded eyes in a flash without the need for surgery!
It can be used for:
Eyelid Tightening, including under eyes and excess upper eyelid skin.
Lip Lines – upper and lower
Forehead lines and frown lines
Crows Feet
Skin imperfections, including skin
tags and sunspots.
Lines and wrinkles around the mouth such as marionette lines
Cheek lines and Nasolabial folds
Jowls and Neck Tightening
HOW LONG DOES PLASMALIFT LAST?
As PlasmaLift is more than a simple tightening treatment (skin volume is actually reduced), the effects should last as long as they would with invasive surgery. Like all surgical and cosmetic procedures, the effects of PlasmaLift are not entirely permanent as it does not stop any further ageing, but the positive results should last YEARS depending on the area treated. The positive effects of treatment will be noticeable immediately after the first treatment, but the final results will be seen after 8 weeks. Additionally, there are lifestyle factors that can prevent the result from lasting as long as they can, such as smoking, alcohol consumption, and prolonged sun exposure.
How does the PLASMALIFT work?
The PlasmaLift pen creates an arc on the skin which instantly shrinks the skin and tightens the wrinkle so it disappears.
What to Expect after treatment?
After treatment small, dry spots will be present on the area. The crusts take 5 to 7 days to fall off and can be covered with makeup after a few days. Subsequently, slight redness is visible for 3 to 4 weeks. Swelling can occur and will generally last 3-5 days. There may be a slight warmth to the area, but mostly there will be no pain, just a tightness to the skin as it has been tightened.
BEST RESULTS
Usually only one treatment is required, however for deep wrinkles two treatments may be required.
For best results PlasmaLift treatments should be followed by other advanced skin facial treatments and DMK paramedical skincare should be used at home for optimal results!
DOTLESS PLASMALIFT
Another option is the Dotless PlasmaLift which leaves no dots and has no downtime, however up to 4 treatments is required to match the Dot PlasmaLift one treatment.
CLICK here to watch a FB live explaining PlasmaLift in detail. Message us NOW for more information.
45 MINUTES, $179              DELUXE INCLUDES LED TREATMENT & MASK $199
HydraFacial is an amazing technology that delivers the results of an advanced facial in under 30 minutes.  HydraFacial is so much more than just another facial. It's an experience. A pleasure. A feeling. And a confidence booster. It focuses on the unique philosophy of 'Skin Health for Life'.
3 STEPS. 30 MINUTES. – THE BEST SKIN OF YOUR LIFE.
Hydrafacial is about much more than just great looking, healthy skin. When our skin looks good and feels good, we feel good too. That's the difference you get with a HydraFacial.
3 STEPS To AMAZING Skin!
HydraFacial is an innovative, multi-stage treatment where every step of the process works together to achieve an even better result than each step could achieve alone.
1.CLEANSE + PEEL
Uncover a new layer of skin with gentle exfoliation and relaxing resurfacing.
2. EXTRACT + HYDRATE
Remove debris from pores with painless suction. Nourish with intense moisturizers that quench skin.
3. FUSE + PROTECT
Saturate the skin's surface with antioxidants and peptides to maximise your glow.
HydraFacial uses advanced, patented vortex technology to deeply cleanse the skin and effectively deliver botanical ingredients containing nutrients such as hyaluronic acid, horse chestnut seed extract, red algae extract, copper, zinc and magnesium peptides to where they do the best.
In addition, HydraFacial also delivers powerful antioxidants to counteract damage by free radicals – from pollution, sun and stress – which can degrade the skin and accelerate the ageing process.
So, for long-term healthy skin and a glowing complexion why settle for an ordinary facial, when you can choose a HydraFacial?
Suitable For All Skin Types…
Yep, HydraFacial is gentle enough for even sensitive skin yet effective enough to deliver powerful and positive changes in your skin.  In addition to improving skin tone, texture and overall skin health HydraFacial also addresses skincare needs such as:
Oily and Congested Skin    *    Blackheads    *    Fine Lines and Wrinkles  Even Tone and Vibrancy     *     Skin Texture     *    Enlarged Pores   *    Dry and Dull Skin    *    Dehydrated Skin    *    Sensitive Skin
HYDRAFACIAL IS FOR EVERYONE
HydraFacial is a fast, efficient treatment that takes as little as 30 minutes. You may put on makeup and return to your normal activities right after the treatment since there is no downtime.
Many clients report seeing instantly visible improvements in skin tone or texture after just one treatment. The smooth results and hydration may last 5 to 7 days or even longer after the first treatment. As you have additional Hydrafacial treatments the result will last for longer each time.
We don't believe in quick fixes, so one treatment per month is recommended for improving the appearance of fine lines, wrinkles, brown spots, oily and congested skin. Regular HydraFacial treatments are highly recommended to maintain skin health results.
Click to book now and experience the HydraFacial difference.
* A course of treatments is recommended.
60 MINUTES, $230
3 PACKAGE $640 – save $50
6 PACKAGE $1265 – includes one half price
**PRICES INCLUDE FREE LED & COLLAGEN FACE MASK**
DermaFrac is a dermal micro-needling machine that offers simultaneous delivery of infused ingredients in a pain free, no downtime treatment that is now available at Amour.
DermaFrac™ allows topical solutions to penetrate deeper into the tissue. It creates micro-channels, and promotes and stimulates collagen production to plump up the skin, while offering simultaneous delivery of the infusion serum, containing powerful peptides, skin lighteners, and anti-oxidants. The precision-controlled DermaFrac hand piece pulls the skin under vacuum into contact with hundreds of micro-needles that painlessly penetrate through the epidermis and into the upper dermis. The depth of needles on the DermaFrac hand piece has been carefully selected so that the channels are created just above capillaries and nerve endings which ensures no bleeding or pain.
Dermafrac skin exfoliation process reveals the new, living skin cells that are soft, smooth & receptive to nutrients. This procedure will also stimulate new collagen and elastin production thus improving fine lines and texture. Designed to improve the overall appearance of your skin, the procedure results in optimal absorption of the serum and stimulates a positive natural response by the body which increases collagen and fibroblast activity.
DermaFrac™ is safe and effective for many skin types and can dramatically improve the appearance of:
– Oily skin and acne
– Fine lines and wrinkles
– Clogged and/or enlarged pores
– Scars and stretch marks
– Skin Dehydration
– Hyperpigmentation, sun spots and uneven skin tone.
DermaFrac treatments are enhanced with Microdermabrasion being performed first to remove the dead skin cells, so getting an increased absorption of the effective serum. These treatments can be performed every 4 weeks in packages of 6 or 3, for optimal results!
CLICK here to watch a video of a Dermafrac treatment in action.
Epidermal Levelling is a safe, painless skin treatment designed to evenly and deeply exfoliate the surface dead and damaged skin build-up, together with removing the soft facial hair at the same time.
It improves the texture and tone of the skin, whilst significantly enhancing the penetration of active products and antioxidants. The results are amazing. Glowing skin that looks refreshed and renewed. A fantastic pick-me-up and great for special occasions.
What type of skin conditions are best suited for this treatment?
Sun damaged, blotchy skin
Fine lines
Congested breakout prone skin
Thickened oily skin
Diffuse redness and rosacea (due to stimulation of collagen and dermal thickening)
Especially suited to patients with fine downy/vellus hair
Click Here to watch a video of an Epidermal Levelling treatment in action.
30 MINUTES, $65
$45 IF ADDED TO ANY OF OUR OTHER SKIN TREATMENTS
LED Therapy is a wonderfully relaxing treatment that uses multiple wavelengths in the visible light spectrum. These wavelenghs penetrate the skin safely and non-invasively to counteract specific skin conditions such as congestion and acne, and combat the effects of aging. It acts to stimulate circulation, strengthen, rejuvenate and repair damaged skin, making it a perfect add on after any peel or facial treatment.
The Cell Wellbeing Hair Profiler is the newest, most accurate and fastest technology of its kind. We are proud to be one of the first in Australia to be using this amazing, breakthrough technology. It all starts with us removing only a few stands of the clients hair, which we then place onto our hair profiler. The hair profiler then reads the information and sends off the information to a German Laboratory. From there it will be analysed and read, and within 15 minutes a detailed, easy to read 26 page report of your general health and wellbeing is sent through. The report covers, Nutrition, Environment, Vitamins, Minerals, Essential Fatty Acids, Antioxidants, Amino Acids, Toxins, Microbiology, Electrical Frequencies, Food Sensitivity and much more. The information from the analysis will paint a clear picture of what the client could do to improve their general health and wellbeing, also giving them helpful tips on where to source what they're lacking or deficient in and also helping them avoid what is bad for their body. Implementing these changes will improve the clients health, boost the immune system, aid in a better sleep, cleanse the body of toxins, assist in maintaining a healthy weight, improve performance, help with aches and pains, improve low mood and depression, and much more. There are many reasons why our bodies are not working to their full potential and sometimes it can be a long and expensive road to feel better. The Cell Wellbeing Hair Profiler takes away all the guess work, in turn saving the client time and money.