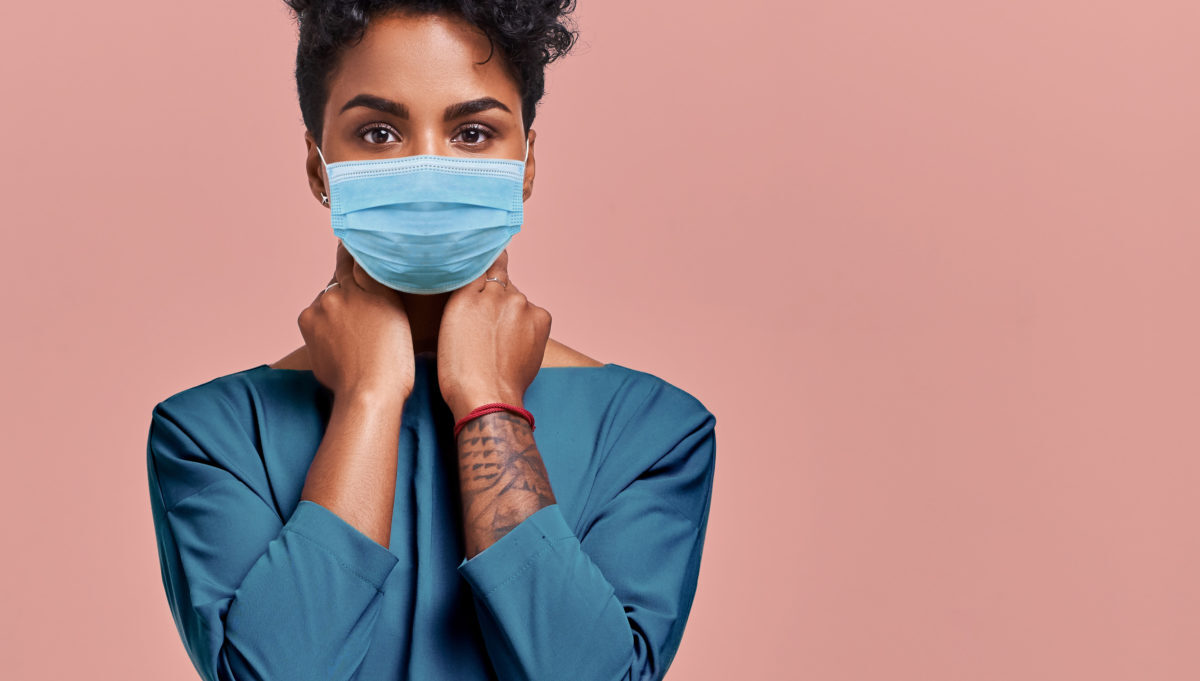 August 20, 2021
Amour Beauty
Maskne
HOW TO AVOID SKIN IRRITATION WEARING A FACE MASK
Due to COVID-19, wearing a mask may now be part of your daily attire. We all know how important it is to wear one when we can't physically distance, but frequent wearing of a face mask can sometimes have a detrimental impact on your skin's health. 'Maskne' is a term you have probably heard through the pandemic, but what is it exactly?
'MASKNE' IS SKIN IRRITATION OR ACNE FROM REGULARLY WEARING FACE MASKS. MASKNE ISN'T NEW, IN FACT, IT IS A COMMON PROBLEM FOR MEDICAL PROFESSIONALS WHO ARE REQUIRED TO WEAR FACE MASKS DAILY.
It is only now during the pandemic that it is becoming a problem in the general population. The technical term for 'maskne' is acne mechanica. Acne mechanica is triggered by excess heat, pressure and friction on the skin and is often brought on by facial protective equipment such as surgical masks. This heat and friction combined with a moist environment created by breathing, talking or sweating creates the perfect storm for breakouts and inflammation. Acne is not the only problem that can be exacerbated by mask wear. People who are prone to rosacea, seborrheic dermatitis and folliculitis can also see a worsening of these conditions with excessive mask use.
As wearing a mask might be essential for a while, there are a number of things you can do to keep your skin healthy.
UP YOUR SKINCARE ROUTINE
To combat and avoid maskne, it is important to be gentle with your skin and make sure you are using the right products. DMK has a range of specialised products that are formulated to calm the skin and attack breakouts at their root cause. To start, try using a gentle cleanser twice a day such as DMK's Deep Pore Cleanser to gently wash away makeup, sweat and impurities. If breakouts pop up, try using Epitoxyl after cleansing to purify the skin. Epitoxyl acts like a magnet and works to draw impurities out of the skin.
Acu-Therm or Acu-Klear are great options for breakouts and congestion. Acu-Therm is designed to heat up and soften hardened sebum plugs, while Acu-Klear penetrates deep into the pores to help clear the build-up of oil, dead cells and bacteria that can lead to acne. Acu-Masque is also perfect for soothing irritation and mask related breakouts. Acu-Masque utilises bentonite and eucalyptus, which has the incredible ability to absorb toxins and minimise impurities and congestions without harshly drying or stripping the skin. For extra healing and sealing, finish your home routine with a dust over of Actrol Powder.
CHOOSE THE RIGHT MASK
The type of mask you wear matters. While it is important for healthcare workers to wear medical-grade masks, if you are struggling with skin issues and are not in a high-risk environment, the best choice is a soft, washable cotton mask. Cotton allows the skin to breathe and the smooth texture will minimise friction that can cause irritation. Synthetic fibres such as nylon, polyester and rayon can cause further irritation as they don't allow the skin to breathe. Ensure that your mask is also the right fit and don't forget to keep it clean. Wash your mask between uses with detergent, hot water and a splash of white vinegar. White vinegar is known for its anti-bacterial, anti-viral and antifungal properties. If you do wear a surgical mask, make sure you never reuse it.
CUT BACK ON MAKEUP
Wearing a heavy comedogenic foundation can clog pores and increase irritation. Consider skipping makeup when wearing a mask, and instead, stick to a soothing moisturiser.
If you need help with 'maskne', consult with your DMK Skin Technician to discuss the treatment and Home Prescriptive products that are right for your skin. DMK is passionate about skin and believe that everybody deserves confidence from having great skin, even during a pandemic.