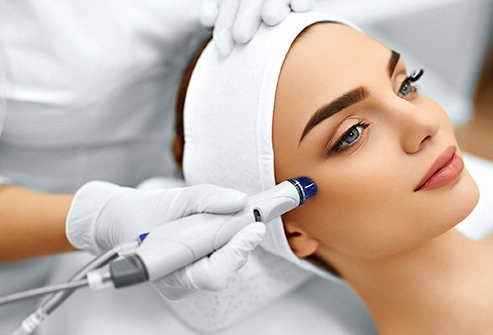 February 12, 2020
Amour Beauty
HydraFacial is an amazing technology that delivers the results of an advanced facial in under 30 minutes.  HydraFacial is so much more than just another facial. It's an experience. A pleasure. A feeling. And a confidence booster. It focuses on the unique philosophy of 'Skin Health for Life'.
3 STEPS. 30 MINUTES. – THE BEST SKIN OF YOUR LIFE.
Hydrafacial is about much more than just great looking, healthy skin. When our skin looks good and feels good, we feel good too. That's the difference you get with a HydraFacial.
3 STEPS To AMAZING Skin!
HydraFacial is an innovative, multi-stage treatment where every step of the process works together to achieve an even better result than each step could achieve alone.
1.CLEANSE + PEEL
Uncover a new layer of skin with gentle exfoliation and relaxing resurfacing.
2. EXTRACT + HYDRATE
Remove debris from pores with painless suction. Nourish with intense moisturizers that quench skin.
3. FUSE + PROTECT
Saturate the skin's surface with antioxidants and peptides to maximise your glow.
HydraFacial uses advanced, patented vortex technology to deeply cleanse the skin and effectively deliver botanical ingredients containing nutrients such as hyaluronic acid, horse chestnut seed extract, red algae extract, copper, zinc and magnesium peptides to where they do the best.
In addition, HydraFacial also delivers powerful antioxidants to counteract damage by free radicals – from pollution, sun and stress – which can degrade the skin and accelerate the ageing process.
So, for long-term healthy skin and a glowing complexion why settle for an ordinary facial, when you can choose a HydraFacial?
Suitable For All Skin Types…
Yep, HydraFacial is gentle enough for even sensitive skin yet effective enough to deliver powerful and positive changes in your skin.  In addition to improving skin tone, texture and overall skin health HydraFacial also addresses skincare needs such as:
Oily and Congested Skin    *    Blackheads    *    Fine Lines and Wrinkles  Even Tone and Vibrancy     *     Skin Texture     *    Enlarged Pores   *    Dry and Dull Skin    *    Dehydrated Skin    *    Sensitive Skin
HYDRAFACIAL IS FOR EVERYONE
HydraFacial is a fast, efficient treatment that takes as little as 30 minutes. You may put on makeup and return to your normal activities right after the treatment since there is no downtime.
Many clients report seeing instantly visible improvements in skin tone or texture after just one treatment. The smooth results and hydration may last 5 to 7 days or even longer after the first treatment. As you have additional Hydrafacial treatments the result will last for longer each time.
We don't believe in quick fixes, so one treatment per month is recommended for improving the appearance of fine lines, wrinkles, brown spots, oily and congested skin. Regular HydraFacial treatments are highly recommended to maintain skin health results.
Click to book now and experience the HydraFacial difference.
* A course of treatments is recommended.