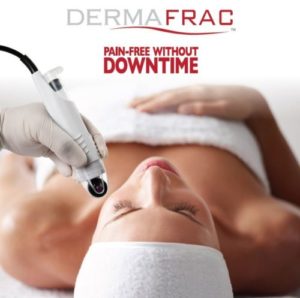 December 16, 2016
Amour Admin
DERMAFRAC
DermaFrac is a dermal micro-needling machine that offers simultaneous delivery of infused ingredients in a pain free, no downtime treatment that is now available at Amour Beauty.
DermaFrac™ is safe and effective for many skin types and can dramatically improve the appearance of:
– Oily skin and acne
– Fine lines and wrinkles
– Clogged and/or enlarged pores
– Scars and stretch marks
– Skin Dehydration
– Hyperpigmentation, sun spots and uneven skin tone.
DermaFrac™ allows topical solutions to penetrate deeper into the tissue. It creates micro-channels, and promotes and stimulates collagen production to plump up the skin, while offering simultaneous delivery of the infusion serum, containing powerful peptides, skin lighteners, and anti-oxidants. The precision-controlled DermaFrac hand piece pulls the skin under vacuum into contact with hundreds of micro-needles that painlessly penetrate through the epidermis and into the upper dermis. The depth of needles on the DermaFrac hand piece has been carefully selected so that the channels are created just above capillaries and nerve endings which ensures no bleeding or pain.
Dermafrac skin exfoliation process reveals the new, living skin cells that are soft, smooth & receptive to nutrients. This procedure will also stimulate new collagen and elastin production thus improving fine lines and texture. Designed to improve the overall appearance of your skin, the procedure results in optimal absorption of the serum and stimulates a positive natural response by the body which increases collagen and fibroblast activity.
DermaFrac treatments can be performed in Salon every 4 weeks for optimal results.
Ask our highly trained dermal team for more information about this amazing new treatment only at Amour Beauty Salon Horsham.
CLICK here to watch a video of a Dermafrac treatment in action.
Our amazing April Special Deal is here now!!
CALL NOW to talk to our Therapists about our amazing package specials available now at Amour Beauty in Horsham.