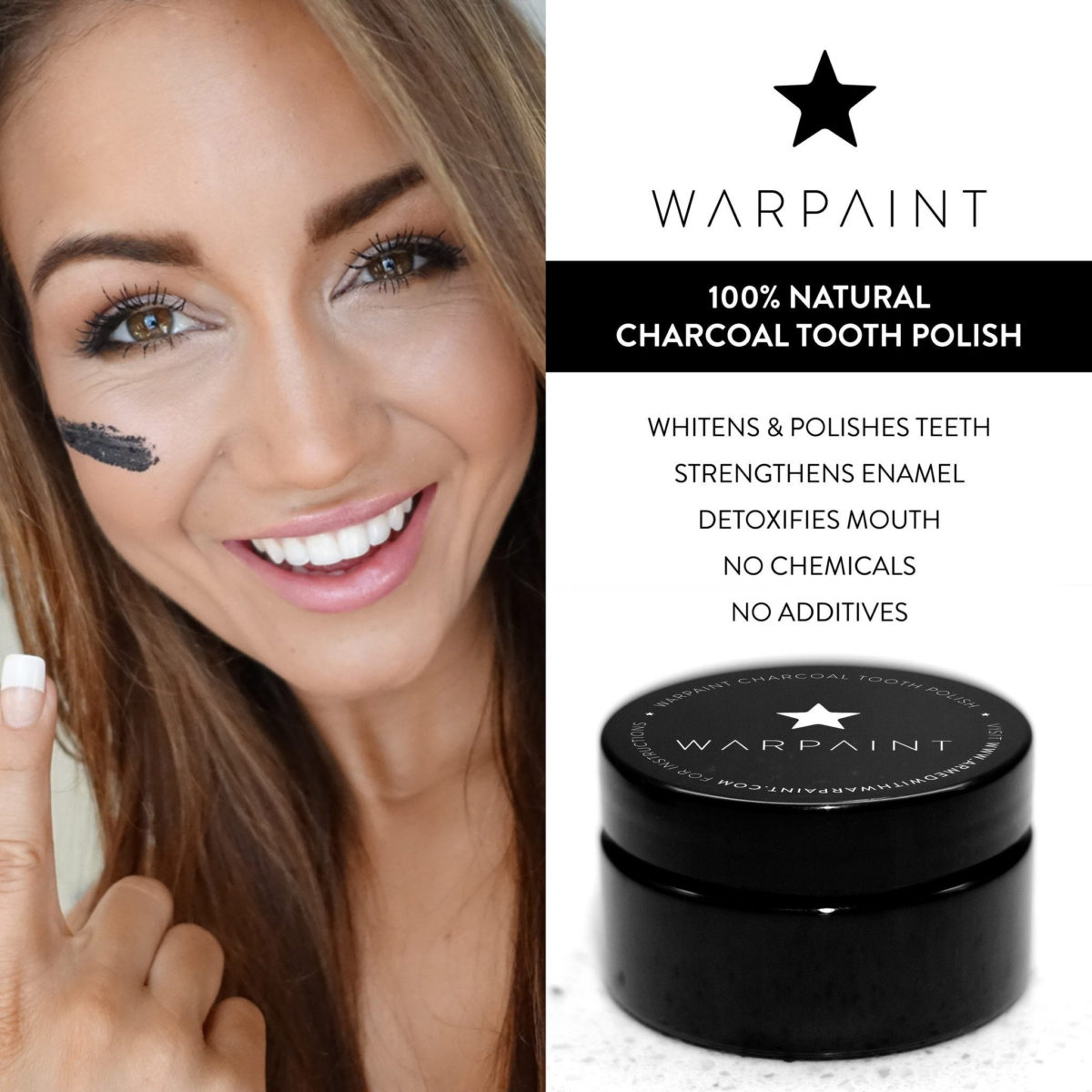 December 16, 2016
Amour Admin
WARPAINT is an amazing success, we receive daily emails of great appreciation and love from our happy customers.
So what is WARPAINT?
WARPAINT whitens and polishes teeth, strengthens enamel and detoxifies your mouth.
Unlike all the harmful chemical, and UV light based whiteners, WARPAINT takes a holistic approach to oral health without any chemicals or additives. With carefully selected 100% natural ingredients, I'm sure it'll fit perfectly into your customers healthy lifestyle. (I must warn you, it's a jet black powder, so it'll look hilarious in your mouth while you use it).
You can use WARPAINT as much or little as you like. It is very flexible. Some customers have replaced it as their night routine and use a commercial toothpaste in the morning, just to still have a stronger minty aftertaste. Some customer use it a few times a week, others use it daily. You can use it instead of your toothpaste.
Our customers love it that WARPAINT is all natural and therefore 100% safe for daily use. WARPAINT is for everyone, even for kids. We recommend it for anyone who has sensitive teeth.
WARPAINT comes in a 30g jar for around 150 uses and is an all natural product, 100% vegan and cruelty free!
– WARPAINT uses organic ingredients such as:
Australian edible calcium bentonite clay that remineralises and strengthen teeth. It is rich in vital minerals that are very beneficial for our teeth and gums – like calcium and potassium. It is a very mild abrasive clay that gently scrubs and beautifully polishes the teeth. Bentonite Clay has been used for decades as a treatment for numerous health conditions and acts as a detoxifying agent to help fight gum disease by strengthening the body's natural immunity. It works as an astringent by helping to remove tartar and cleans the gums.
A non abrasive very fine activated coconut charcoal (the food safe type that is used in emergency situation in the Emergency Room for overdoses of medications, drugs and alcohol), it adsorbs materials, it is very porous and this allows the surface of the charcoal to attract and hold material and debris within the pores. Brushing with activated charcoal will help remove discolorations, stains (coffee, tobacco, tea, etc.) and debris and leave the surface area of the tooth clean and appearance will be whiter.
Organic sweet orange peel (does not contain citric acid), to remove stains and strengthen sensitive teeth.
Organic lemon myrtle (found on rainforest trees indigenous to Australia/Queensland, does not contain citric acid), a powerful microbial and anti-fungal agent that also contains calmative properties to soothe and relax.
Organic peppermint to reduce infections and inflammation. Plus, it'll keep you smelling fresh and zesty!
Come in quick to our Salon in Horsham to purchase this amazing natural product that actually works on whitening your teeth!!